Our Program
The Precision Fluency Shaping Program treats stuttering as a behavioral problem. We do not perceive stuttering as the consequence of a complex emotional disorder. We can confidently say that after decades of helping stutterers, the proper approach to treating this perplexing, long-standing affliction is to accurately redevelop the physical properties of speech.
The Precision Fluency Shaping Program employs laboratory derived principles of learning in the development of new speech skills. During the therapy program, physical mechanisms used in the production of speech are precisely and systematically retrained. Participants in The Precision Fluency Shaping Program relearn the proper means of producing the elementary sounds of speech. The stutterers then rebuild their ability to correctly produce syllables, words and, ultimately, complete sentences.
The Precision Fluency Shaping Program was developed by Dr. Ronald L. Webster, President of the Hollins Communications Institute, a national stuttering research center that he founded to investigate stuttering, develop new treatment approaches and administer life-changing stuttering therapy.
Patient Testimonials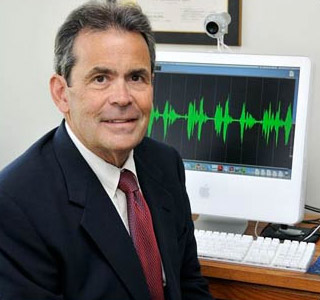 Ross S. Barrett, M.A., CCC/SLP
The Precision Fluency Shaping Program Director
Board Recognized Fluency Specialist
Learn more about Ross Barrett
Before I was introduced to Ross Barrett, I was your average stutterer. I had gone from therapist to therapist hoping to find that "magic cure" (which I now know is non-existent) for my stuttering. Each time, I was perfectly fluent for that one hour each week in the therapist's office, but as soon as I left, my speech would deteriorate. After several attempts with speech pathologists, I even tried hypnosis, biofeedback, a sugar-free diet, and a myriad of other hopeless methods to improve my speech. At this point, I probably knew some elements were missing that would make the difference. The program had to be intensive and all-inclusive, and most important, I had to be motivated. I did not know any fluency programs that satisfied the first criterion, and I needed just one incident to make me realize that my speech was really a handicap.
Then that one incident finally came. I was searching for an internship in Finance the summer between my first and second year of MBA school. I interviewed with six different firms and I received six different rejection letters. My illusion was shattered because I thought that being second in my MBA class and maintaining a 3.9 GPA would be enough for an interviewer to overlook my speech...