Our Program
The Precision Fluency Shaping Program treats stuttering as a behavioral problem. We do not perceive stuttering as the consequence of a complex emotional disorder. We can confidently say that after decades of helping stutterers, the proper approach to treating this perplexing, long-standing affliction is to accurately redevelop the physical properties of speech.
The Precision Fluency Shaping Program employs laboratory derived principles of learning in the development of new speech skills. During the therapy program, physical mechanisms used in the production of speech are precisely and systematically retrained. Participants in The Precision Fluency Shaping Program relearn the proper means of producing the elementary sounds of speech. The stutterers then rebuild their ability to correctly produce syllables, words and, ultimately, complete sentences.
The Precision Fluency Shaping Program was developed by Dr. Ronald L. Webster, President of the Hollins Communications Institute, a national stuttering research center that he founded to investigate stuttering, develop new treatment approaches and administer life-changing stuttering therapy.
Patient Testimonials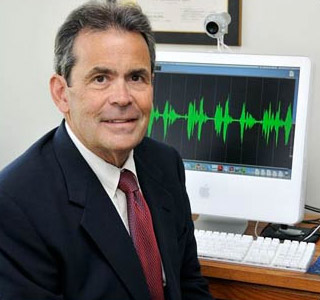 Ross S. Barrett, M.A., CCC/SLP
Instructor of Clinical Otolaryngology
The Precision Fluency Shaping Program Director
Board Recognized Fluency Specialist
Learn more about Ross Barrett
I just thought I'd let you know how my day was today. Today I had to give a presentation in my psychology class on a disorder. And I had been dreading this all semester long. And this morning I was so nervous I could barely breathe. I listened to one of the CD's before class today, and I was really concentrating on my full breaths all day.
As I got up there to speak I thought I was going to choke. And then when the instructor looked at me to give the go ahead to start, I took a big beautiful full breath of air and my targets just flowed out and every word after that just seem to follow as perfectly. The whole 5 minutes I was up there, every sentence was flawless.
I have never felt so wonderful about speaking in public my whole entire life. After class was over, I got in my car and the happy tears of joy just went crazy! I couldn't believe how well I did and I haven't felt that way in a LONG time...