Our Program
The Precision Fluency Shaping Program treats stuttering as a behavioral problem. We do not perceive stuttering as the consequence of a complex emotional disorder. We can confidently say that after decades of helping stutterers, the proper approach to treating this perplexing, long-standing affliction is to accurately redevelop the physical properties of speech.
The Precision Fluency Shaping Program employs laboratory derived principles of learning in the development of new speech skills. During the therapy program, physical mechanisms used in the production of speech are precisely and systematically retrained. Participants in The Precision Fluency Shaping Program relearn the proper means of producing the elementary sounds of speech. The stutterers then rebuild their ability to correctly produce syllables, words and, ultimately, complete sentences.
The Precision Fluency Shaping Program was developed by Dr. Ronald L. Webster, President of the Hollins Communications Institute, a national stuttering research center that he founded to investigate stuttering, develop new treatment approaches and administer life-changing stuttering therapy.
Patient Testimonials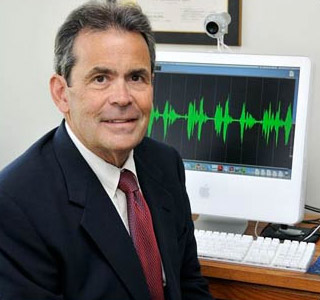 Ross S. Barrett, M.A., CCC/SLP
Instructor of Clinical Otolaryngology
The Precision Fluency Shaping Program Director
Board Recognized Fluency Specialist
Learn more about Ross Barrett
I was really nervous the day I boarded my airplane for Norfolk, Virginia. I was beginning to have second thoughts - why was I doing this? What did I really know about this Ross Barrett and his stuttering therapy program? I was traveling hundreds of miles to a strange city where I had never been before and knew no one. What if it turned out to be a bust? But just wait a minute.
Ross had sounded sincere on the telephone, and he was an instructor at The Precision Fluency Shaping Program. The materials and information he had sent me were unique - Ross did not treat stuttering as a psychological problem, but simply as a learned behavior that could be modified. He did not promise a "magic cure." He did say that if I was willing to work hard at learning what he referred to as "targets", fluency would follow. It was worth a shot...