Our Program
The Precision Fluency Shaping Program treats stuttering as a behavioral problem. We do not perceive stuttering as the consequence of a complex emotional disorder. We can confidently say that after decades of helping stutterers, the proper approach to treating this perplexing, long-standing affliction is to accurately redevelop the physical properties of speech.
The Precision Fluency Shaping Program employs laboratory derived principles of learning in the development of new speech skills. During the therapy program, physical mechanisms used in the production of speech are precisely and systematically retrained. Participants in The Precision Fluency Shaping Program relearn the proper means of producing the elementary sounds of speech. The stutterers then rebuild their ability to correctly produce syllables, words and, ultimately, complete sentences.
The Precision Fluency Shaping Program was developed by Dr. Ronald L. Webster, President of the Hollins Communications Institute, a national stuttering research center that he founded to investigate stuttering, develop new treatment approaches and administer life-changing stuttering therapy.
Patient Testimonials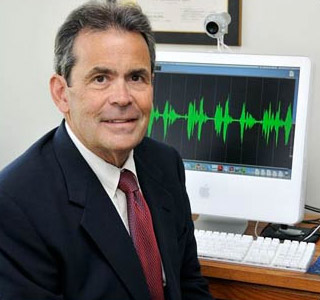 Ross S. Barrett, M.A., CCC/SLP
Instructor of Clinical Otolaryngology
The Precision Fluency Shaping Program Director
Board Recognized Fluency Specialist
Learn more about Ross Barrett
Remember me? The Red-headed kid from last summer? I know it's been a long time, but I just wanted to thank you so much for helping me get over one of the biggest humps of my life. I am doing great, and my speech is doing even better. I still remember when you said you will always be a stutterer but since you've learned to control it, it will never show up unless you slip up… Now, I totally know what you mean. When I left Norfolk after the program, my progress on fluency slowly but surely increased. I am totally in control and now I can sleep soundly at night. I kind of relate stuttering to alcoholism. You're never cured, everyday you wake up an alcoholic or a stutterer, but it's your choice on how you want to end that day. I learned a lot in my time at The Precision Fluency Shaping Program. Not just how to control stuttering, but I learned a lot about myself, about working hard and how much I take certain things for granted.
I left Norfolk with a whole new attitude, a new vision. This helped me in the following year tremendously. In several aspects I was slowly turning myself into the person that I wanted to be. I'll never forget the little things you did for me that made a huge difference while I was there… I felt great at the end of each day, refreshed and improving. I'm not sure if you remember, but on the last day of the program you had me read a passage in front of all the parents and all the students...