Our Program
The Precision Fluency Shaping Program treats stuttering as a behavioral problem. We do not perceive stuttering as the consequence of a complex emotional disorder. We can confidently say that after decades of helping stutterers, the proper approach to treating this perplexing, long-standing affliction is to accurately redevelop the physical properties of speech.
The Precision Fluency Shaping Program employs laboratory derived principles of learning in the development of new speech skills. During the therapy program, physical mechanisms used in the production of speech are precisely and systematically retrained. Participants in The Precision Fluency Shaping Program relearn the proper means of producing the elementary sounds of speech. The stutterers then rebuild their ability to correctly produce syllables, words and, ultimately, complete sentences.
The Precision Fluency Shaping Program was developed by Dr. Ronald L. Webster, President of the Hollins Communications Institute, a national stuttering research center that he founded to investigate stuttering, develop new treatment approaches and administer life-changing stuttering therapy.
Patient Testimonials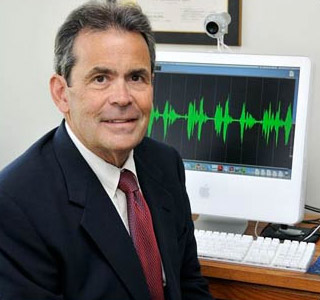 Ross S. Barrett, M.A., CCC/SLP
The Precision Fluency Shaping Program Director
Board Recognized Fluency Specialist
Learn more about Ross Barrett
I first want to thank you for making my son Anthony feel so at home. From the moment he arrived in Virginia he could not stop telling me how nice the people were and how welcomed he felt. I wouldn't be surprised if my son told me that he would like to move there - that is how impressed he was.
Ross, Karrie I can't thank you both enough for the wonderful job you did with my son Anthony. When he left New York, Anthony was listless, depressed, lacked motivation and ambition and in the short time he was in Virginia, when he would call me, I immediately heard the difference in him - he had hope!!! Not only did I hear the difference in his speech but in his being! I had never heard my son so excited about anything. He sounded wonderful - spoke beautifully and was just so happy.
It is amazing, and to be quite honest, in as much as I really did want to believe that this program was going to work, I did feel a bit skeptical. I found it hard to comprehend that in such a short period of time (only two weeks) that such a drastic change could occur...