Our Program
The Precision Fluency Shaping Program treats stuttering as a behavioral problem. We do not perceive stuttering as the consequence of a complex emotional disorder. We can confidently say that after decades of helping stutterers, the proper approach to treating this perplexing, long-standing affliction is to accurately redevelop the physical properties of speech.
The Precision Fluency Shaping Program employs laboratory derived principles of learning in the development of new speech skills. During the therapy program, physical mechanisms used in the production of speech are precisely and systematically retrained. Participants in The Precision Fluency Shaping Program relearn the proper means of producing the elementary sounds of speech. The stutterers then rebuild their ability to correctly produce syllables, words and, ultimately, complete sentences.
The Precision Fluency Shaping Program was developed by Dr. Ronald L. Webster, President of the Hollins Communications Institute, a national stuttering research center that he founded to investigate stuttering, develop new treatment approaches and administer life-changing stuttering therapy.
Patient Testimonials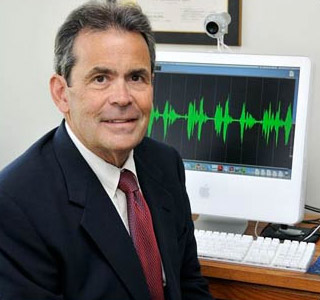 Ross S. Barrett, M.A., CCC/SLP
Instructor of Clinical Otolaryngology
The Precision Fluency Shaping Program Director
Board Recognized Fluency Specialist
Learn more about Ross Barrett
I am writing today to express to you my sincere appreciation for the wonderful results I have experienced since returning home from my stay in Norfolk in 1997. Words cannot begin to state how much my life and ministry have changed since I completed the stuttering therapy program at The Precision Fluency Shaping Program. In my profession as the pastor of Modest Town Baptist Church, and as a U.S. Navy Chaplain, I am required to speak in front of large groups of people each week. Since 1969, I was faced daily with my severe stuttering problem. For many years prior to my call to full-time ministry, I often thought that there was no hope for me to ever speak fluently. When I heard about the program at EVMS, I was both excited and hopeful at the results I had seen on the video from previous students.
During the program, I began to see that I could indeed learn to pronounce my syllables and words with proper speed and clarity. One of my many problems centered on my breathing patterns. When I first learned the full breath target, I could physically feel the difference. After I returned home, my wife and congregation noticed the great improvements I had made. I cannot believe that the past three years have gone by as quickly as they have...