Our Program
The Precision Fluency Shaping Program treats stuttering as a behavioral problem. We do not perceive stuttering as the consequence of a complex emotional disorder. We can confidently say that after decades of helping stutterers, the proper approach to treating this perplexing, long-standing affliction is to accurately redevelop the physical properties of speech.
The Precision Fluency Shaping Program employs laboratory derived principles of learning in the development of new speech skills. During the therapy program, physical mechanisms used in the production of speech are precisely and systematically retrained. Participants in The Precision Fluency Shaping Program relearn the proper means of producing the elementary sounds of speech. The stutterers then rebuild their ability to correctly produce syllables, words and, ultimately, complete sentences.
The Precision Fluency Shaping Program was developed by Dr. Ronald L. Webster, President of the Hollins Communications Institute, a national stuttering research center that he founded to investigate stuttering, develop new treatment approaches and administer life-changing stuttering therapy.
Patient Testimonials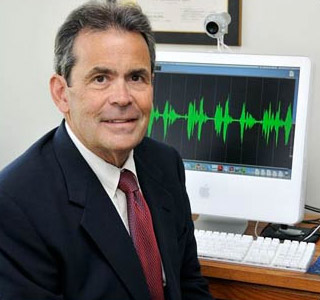 Ross S. Barrett, M.A., CCC/SLP
The Precision Fluency Shaping Program Director
Board Recognized Fluency Specialist
Learn more about Ross Barrett
My son, Josiah, age 16, completed your course about one month ago. From the moment he had come home, he was different. Formerly he refused to speak on the phone. But he got a cell phone and now uses it with great anticipation. He formerly refused to talk to the neighbors, but now he goes there with pleasure to talk to them. He even called ESPN national Sports Talk radio to openly voice his opinions for everyone in the county to hear! He even told me, Dad, I don't want to be a stockbroker anymore… I want to be a Sports Talk radio announcer. Could we ever have expected a more dramatic change?
I have a letter that Josiah wrote four months ago regarding his stuttering and his refusal to work anymore with a speech teacher. He hated her and hated speech class because he felt it did nothing. He was so bitter toward her and toward the world about his stuttering problem. But your course is remarkable. He told me that he worked harder that anyone else in your class...