Our Program
The Precision Fluency Shaping Program treats stuttering as a behavioral problem. We do not perceive stuttering as the consequence of a complex emotional disorder. We can confidently say that after decades of helping stutterers, the proper approach to treating this perplexing, long-standing affliction is to accurately redevelop the physical properties of speech.
The Precision Fluency Shaping Program employs laboratory derived principles of learning in the development of new speech skills. During the therapy program, physical mechanisms used in the production of speech are precisely and systematically retrained. Participants in The Precision Fluency Shaping Program relearn the proper means of producing the elementary sounds of speech. The stutterers then rebuild their ability to correctly produce syllables, words and, ultimately, complete sentences.
The Precision Fluency Shaping Program was developed by Dr. Ronald L. Webster, President of the Hollins Communications Institute, a national stuttering research center that he founded to investigate stuttering, develop new treatment approaches and administer life-changing stuttering therapy.
Patient Testimonials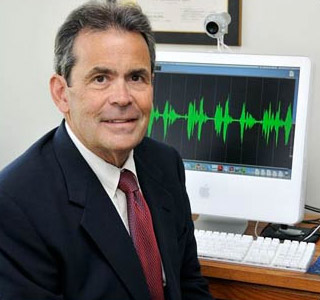 Ross S. Barrett, M.A., CCC/SLP
The Precision Fluency Shaping Program Director
Board Recognized Fluency Specialist
Learn more about Ross Barrett
There is something I would like to tell everyone who has a stutter or knows someone who does. I attended a speech program that has radically changed my life. I had a severe stutter ever since I was able to talk and had finally had it with people laughing at me and giving me a hard time while I struggled to get out a word.
People who don't have speech problems just don't understand what a stutterer has to go through. I have had very embarrassing moments while dealing with the general public. Sales clerks have turned to the person I was with and asked "What does she want?" I just crawled further inside myself and didn't talk to anyone. I led a miserable existence.
Then I decided to go to college and learn to work on computers. I thought if I was a computer operator I would not have to talk to anyone and that would be a perfect job for me. I could hide from my stuttering. But, I found out that in my field I would have to also talk on the phone a great deal. I loved computers, so I decided to do something about my speech. I was tired of hiding and avoiding conversations. I wanted a social life like my fluent friends had...