Our Program
The Precision Fluency Shaping Program treats stuttering as a behavioral problem. We do not perceive stuttering as the consequence of a complex emotional disorder. We can confidently say that after decades of helping stutterers, the proper approach to treating this perplexing, long-standing affliction is to accurately redevelop the physical properties of speech.
The Precision Fluency Shaping Program employs laboratory derived principles of learning in the development of new speech skills. During the therapy program, physical mechanisms used in the production of speech are precisely and systematically retrained. Participants in The Precision Fluency Shaping Program relearn the proper means of producing the elementary sounds of speech. The stutterers then rebuild their ability to correctly produce syllables, words and, ultimately, complete sentences.
The Precision Fluency Shaping Program was developed by Dr. Ronald L. Webster, President of the Hollins Communications Institute, a national stuttering research center that he founded to investigate stuttering, develop new treatment approaches and administer life-changing stuttering therapy.
Patient Testimonials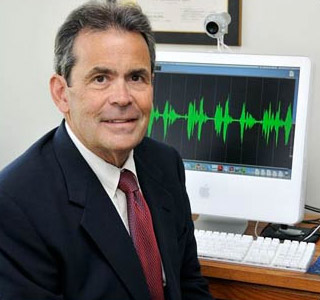 Ross S. Barrett, M.A., CCC/SLP
Instructor of Clinical Otolaryngology
The Precision Fluency Shaping Program Director
Board Recognized Fluency Specialist
Learn more about Ross Barrett
I don't know if you remember me as I was in your program in May of 1998. My name is Yaakov Klughaupt. Now you remember, right? Just kidding. I didn't expect you to.
Anyway, I wanted to share with you some heartwarming news. On Tuesday night, June 24th, 2003, I got engaged to a wonderful girl by the name of Nechama.
Nothing, and I mean NOTHING, could have happened without the therapy that I took while I was down in Norfolk. I mean you gave me a chance to succeed in a place I would've never even fathomed I would have been able to. What you in essence did for me essentially gave me my life back, and all the opportunities that come with it. I can't even begin to thank you so this will have to suffice...